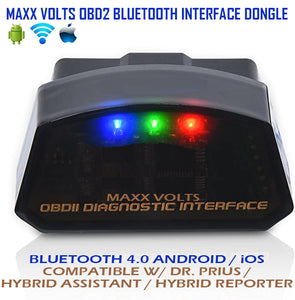 So you have a hybrid vehicle with battery issues and want more information to help diagnose and pinpoint the issue with your vehicle or hybrid battery?

Or have you already had someone check your check engine light codes and already know you have a P0A7F (Honda) or P0A80 (Toyota/Lexus) and want more information on what the exact issue is with your battery or which blocks within your battery are problematic?
Or have you already invested in a Maxx Volts Charger and or Pro Automatic Discharger system and want to measure the before and after results and capacity improvement after using the battery restoration system?
Using our products, one of our customers did exactly this and made the following video documenting the process:

https://youtu.be/dheG2hpKeYY
Or do you have a persistent bad block within your 28-40 module battery pack and want to know the voltages of each block, the difference between block to block or which blocks are weak?
Well then this is the interface tool you need to turn your smartphone into a code reader and obtain the hidden information the vehicle is storing in its memory!
Other tasks OUR OBD2 interface dongle can do for you:
● CLEAR CHECK ENGINE LIGHT - Do you have a warning light illuminated on your dashboard but not want to pay hundreds to find out what is wrong? This OBD2 code reader will help you save money and accurately diagnose check engine light problem. Very easy to use.
● Most every car made in the past 2 decades are fitted with an OBD2 diagnostic port, simply find the port and plug the interface in.

● PLUG IT IN AND GO- With it's tiny size and unique power saving functionality that protects your battery, it can turn your iPhone, iPad or Android phone/tablet into a sophisticated vehicle scan tool.
● WORKS MANY POPULAR OBD2 APP - The Maxx Volts OBD2 Interface dongle works with many Toyota Lexus specific apps such as Dr. Prius, Hybrid Assistant, Hybrid Reporter, Torque Pro, Car Scanner ELM OBD2, etc.).
● COMPATIBLE VEHICLES- Works with 12V OBD2 compliant gas and hybrid cars and light trucks 1996 and newer