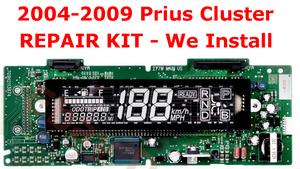 Toyota Prius 2004-2009 Instrument Cluster Repair
This item for sale represents our repair service on your existing good core instrument cluster that you send to us

If your 2004-2009 Toyota Prius experiences any of the following symptoms, this is the the fix you're searching for!
•Instrument cluster turns off/black
•Instrument cluster is completely dead
•Vehicle has difficulty shutting off
•Trunk sometimes won't open
With this service:
•Some components on your cluster will be repaired and replaced with upgraded components that prevent the same issue from happening in the future.
•After the repair your unit will be tested in working condition before being shipped back to you at our expense.
•Your cluster is guaranteed for life to never have this same issue again
How does this service work?
1) Place your order here

2)
 Send us your instrument cluster.

Our repair facility shipping address details will be sent to you once you have the cluster removed and its ready for shipment

. You are responsible for shipping the unit to our location at your expense. We are responsible for return shipping at our expense. 

3) Your cluster will be repaired within 24-48 hours once received

4) Your repaired and upgraded cluster will be returned back to you via USPS Priority Shipping 1-3 days within continental USA

What do we need from you?
• Please package your instrument cluster VERY well before shipping it. It is a fragile PCB that can be damaged if care is not taken to pack it properly.

Terms and Conditions:
• This is a repair service on your EXISTING cluster. This ad is not for the purchase of an additional cluster, no item will be provided.
• It is the responsibility of the customer to ensure the cluster is packaged in a way that it will not be damaged.
• 
It is the responsibility of the customer to ensure the cluster is shipped secure with tracking.
• If a cluster has been damaged physically, or due to a prior failed repair attempt, we can try to repair it, but there are no guarantees we can fix someone else's mess. If this is the case you will receive a refund MINUS the shipping cost to return it to you.
---
---
---
---
---
---
---
---
---
---
---
---
---
---
---
---
---
---
---
---
---
---
---
---
Toyota Prius 2004 2005 2006 2007 2008 2009 instrument cluster speedometer speedo mph gauge dash display projection screen combination meter